Best Social Media Marketing in Sri Lanka for Business
Leverage the power of Social Media Marketing: Attract leads, engage with them & convert to customers.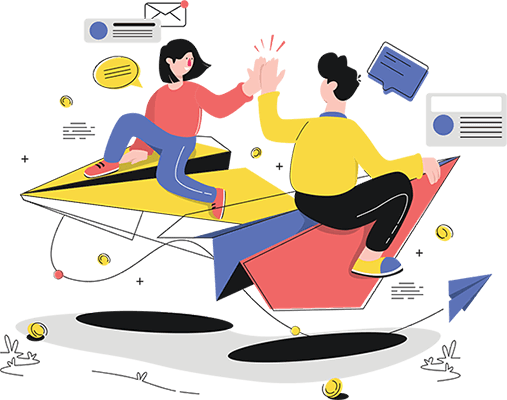 Hi, I'm Alston.
Thank you so much for checking out our social media marketing service page.
Before I get into that, we are Maxinium, a small and modern digital growth agency which is the primary focus is to help your business succeed through using internet solutions.
We are not a traditional marketing agency with big offices so much always costs so many procedures or even contracts. We are modern days agency; we are able to optimize all our processes, so we can provide affordable solutions to customers without compromising any quality at all.
Okay, social media. I don't need to say the power of social media because you already know it more than me, go to any country you would find the social media websites and has been some of the most popular or most used websites in their country.
Even take you an example of how many times you use facebook, how many times you go to LinkedIn or how many times you use Twitter, so think of all the marketing possibilities when we utilize the power of social media correctly.
That's what we do social media marketing, but do not forget this is not just social media management. I see this a lot are so many companies around the world where they keep a social media profile, and they hire someone to write a post without even considering whether is it helping them to gain a new customer?
That's where we come in. We are not another social media management service.
We are offering the social media marketing What that means is we will optimize, we will engage your social media profile, but the most significant factor is we will help you to drive customers from social media to your business that is our goal this is not management This is a marketing service.
Okay. Now, let me tell you why social media will be necessary for your business First, the brand any brand should have a social media influence realize it's not just you're having a social profile and forgetting about you should have a social media influence. So your brand gets recognized with these people your target audience, your brand gaining more popularity.
So the first goal of social media will develop your brand. Second, it will build lasting relationships with your customers because they have the social presence you provide social presence, you engage them.
So, what essentially will do is it will encourage the customers to be more socially active towards your company.
Third, it will increase your traffic and customer visits to your website because many are they actively engaging, even if they forget, for example, the main reason the TV advertisement commercials are popular is simply because of repetition because otherwise when they see an ad they will think oh, I should check it out, but after some time, they will forget about it.
That is the reason the tv ads repeatedly showing to the customer because they want to remind them, that's what you can do with social media.
Once they become your social media fan, you can keep on repeating them with interactive content, not just a basic same message post. You should create interactive content to engage with the audience.
Grow Your Social media by that growing your visitors to your website, which can finally lead to customers for your business. Okay, we in our social media service; the main major platform we support includes Facebook. That is the number one social media platform when it comes to South Asia.
Twitter, we also support that LinkedIn for professional promotions, Instagram image-based promotions, and marketing. Pinterest is an alternative to Instagram.
So these are the main platform we support in case if you have a custom platform, please contact us, and we will let you know whether we can help that request or not.
Okay, now, let me say what our service includes.
First, we will create engaging posts so the customer will be able to interact with them; it will keep your audience interested rather than just a boring piece of information. So these posts will keep them engaged.
Second, we provide an all in one service. So will be when it comes to social media, even we will assume that you are not an expert.
So what we will be doing, we provide all the necessary solution to make sure that your social media campaign succeed.
Third, we all will also include custom images or custom video; it can be either commercial-free if you want us to find all if you are within your rights based images or video we will insert those into the social media.
We will do the graphic designing for the social media post by which you want the will do social media design. What I mean by design is Social cover, your promotion images, or your advertisement images or advertisement video; we will be able to do those things.
We will able to set up your social media profile correctly and engagingly and should make sure it's technically optimized to get the exposure you deserve.
We will also do a monthly social media audience to see if there's anything wrong with your profile.
When we take a new client with social media also first step, we will be doing a social media audit.
Then we will make sure your brand reputation stays positive in social media because most people ignore it. Social media is one of the significant platforms when we say reputation gets managed a lot because so many people can leave reviews comments regarding your brand.
So we need to monitor responses to them to make sure that we are a responsible business, and we will also run ad campaigns in social media.
When I say ad campaigns, it's not boosting your posts. We create actual advertisement campaigns through business platforms inside social media.
For example, for Facebook, we creating an ad campaign based on a business Facebook platform. What that means is we be using over 200 additional factors when we create advertisement campaigns, we will be able to improve like what they like or what they are doing, what is their status, what the favorites, all these things that are available on our social media analytics.
So we'll be using these all these things to target your requirements to the customer better the way you want.
We also provide blog post writing; we have a separate service page for actual content writing.
In social media, we provide for selected package blog posts, where we will be able to create content that is interested in your target audience.
They are by sharing with social media; it will give more interactions towards it. We will also do a competitive analysis and monitoring for your social media, and this is a competition analysis, especially for social media, not your local business, not local search engines.
It is mentioned before social media, so we will keep track of your competitors to see whether they stay one step ahead of them. We also provide social media monitoring, so if there are any necessary changes or important updates, we will make know about it.
In the selected package, we also provide and run social media contest giveaway so that we will be providing giveaway support we are we will create an excellent giveaway for your business they are by collecting a lot of customers potentially leads where you can contact them and grow your business.
Essentially the giveaway will likely only get you 10x conversation more than what you gain for so it will be a high ROI.
So overall those are the main features I wanted to talk to you about our process is also clearly laid out in our service page below this video you can read about it too we include the frequently asked questions when it comes to social media.
Make sure to read this, or if you're selecting any company, make sure to ask the social Frequently Asked portion because most of the time, customers will be lost on a technicality, and the problems come after getting signed up.
It will be a huge headache, so make sure to check it out. We have also listed a pricing package plan below on this page. So we don't just give different prices for a diverse customer based on their status or profit margin.
We have one price fit scheme for different businesses. Choose the one which is best for you can always start with the lowest and if you are not getting enough attention, you could upgrade to bigger plans according to your needs.
Also, if you have any other custom questions, doubts, or anything related to social media, which you are unsure, feel free to contact us there's no commitment, it would love to encourage and allows startups or company business owners for taking the time to know about things we love help them.
So, I hope I've cleared everything when it comes to social media marketing. If you have any questions, feel free to contact us, and I hope your social media will start growing soon, and I hope we can make your social media so much convincing, so it drives customers through it. Thank you
Social Media Marketing Services in Sri Lanka
Social Media Platforms We Support
Our Social Marketing Process
# Understand Your Audience & Goals
It is an essential process since we will use the knowledge gained from this process to engage with your target audience effectively.
# Identify Right Social Platforms
Not every social platform will suit your business; that's why we analyze and find the most suited platforms for promotion.
# Create a Social Media Marketing Plan
Once identified the right social media platforms, then we create an exclusive strategy for social media promotion.
# Execution of a Social Marketing Plan
Once planned the next step is to carry out that plan in a logical approach to bring targeted social media traffic to your website.
# Track and Modify Your Social Process
Monitoring campaigns to make adjustments, increase the conversions and bring more leads to your business.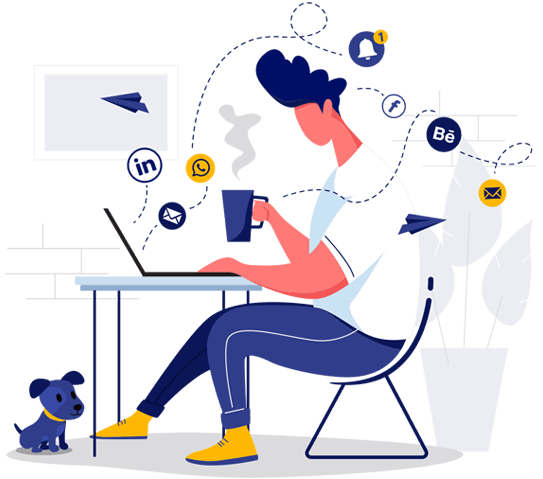 Everybody knows social media is the heart of everything. In Sri Lanka, an average individual spends about 1 hour a day on popular social media platforms such as Facebook, Youtube, Whatsapp, Instagram, Twitter & Linkedin. So it's vital that your business should also focus your target audience through social networks.

It does not matter if your business is a local service, store, international brand because every brand needs to have a social media network presence. With social media, you will have the ability to reach most of your target audience base instantly & engage with them.

Most people need to understand that social media management is not the same as social media marketing because with management you're just trying to maintain the social media presence, but social media marketing is the strategic process to gain more targeted customers through social media in a fast and timely manner.

The sooner you begin, the faster you will see the business grow, So start your social media marketing with us to tap into unsaturated advertising space.
Engaging posts
Engage your current subscribers or gain new followers with unique and exciting social media posts created to promote your brand.
Every month our social media specialist will create a number of social media posts depending on the plan you have chosen.
If you want we also have the option for you to approve social media posts before publishing it.
Custom images
To gain more attention to your social posts, we will also create eye-catching and professional social images with the help of the best graphic designers in Sri Lanka. It will positively impact your social media reach.
Social media designs
To make your brand rememberable and increase your trust, we will design a custom cover photo and profile image.
Our social media specialists will develop these based on our expert's knowledge or based on your requirements.
In case if you already have well-designed elements, then we can optimize it to social media.
Social setup & optimization
We will begin the social media promotion with optimized accounts so any strategies employed will be more effective and will have more reach.
If you have not created social accounts, then we can do it for you, or if you already have accounts, then we can optimize it for you.
Social media audit
It is a crucial part of our plan to analyze the current effectiveness of your profiles. In this process, we will evaluate your past posts, images, comments, reactions, and user engagements to create a result-oriented strategy for your website.
Brand reputation management
We will keep track of your brand name to ensure that your brand reputation on the Internet is positive. It will help to create trustability in your business.
Advanced ADs Management
We will create AD campaigns based on your selected package and your budget. In all of our campaigns, we will be using over 100+ target factors to attract the audience who you wish to promote your business. It is the real power of social media marketing.
Competitor analysis
During the social media promotion we not only will promote your profile but we will also monitor a number of your competitor profiles based on the plan you have selected. We will also be able to spot competitor weaknesses and find the best opportunities for your business.
Monthly meeting
Monthly once a meeting will be available where the current month's progress & growth will be discussed.
We will also talk about potential optimizations and improvements for current strategies to bring more profit for your campaigns.
Daily social media monitoring
We will daily monitor your social media to identify any critical notifications, and we will also keep track of interactions & engagements happening on your social networks.
Transparent reports
During the monthly meeting, we will provide a report which will contain all the information and statistics for the current month. This report will be available to access afterward by your team, and nothing will be hidden in the report.
FROM PEOPLE WHO WE HAVE WORKED WITH
Alston Antony thanks a lot for your trust and contribution to our tool's development, we appreciate that a lot!❤️
Thank you for being a media partner and providing SEO & digital marketing services for our conference held in Hongkong.
Alston has played a huge role in our growth. I love the founder and has been a PitchGrounder for months now and have supported so many people.
If still not convinced, why don't you check our private Facebook group with over 1000+ for businesses and professionals worldwide and how much care we put into helping them.
Frequently Asked Questions on SMM Services
Let's talk about your social project!