Best Website Virus Removal & Protection Service in Sri Lanka
We clean and protect your websites at an affordable price.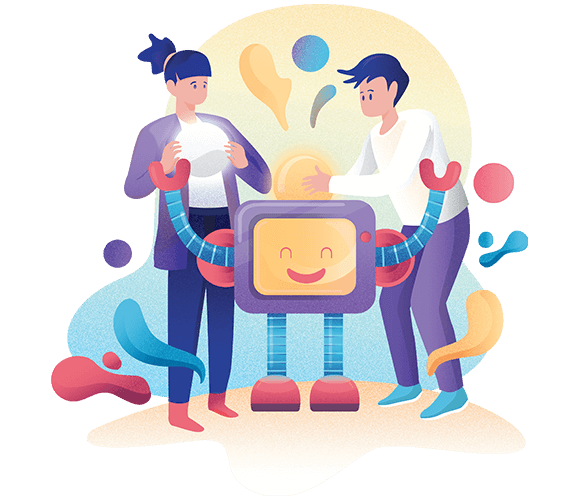 Hi, I am Alston.
First, thank you so much for checking out our website security and recovery service page. Before we go into the service detail, first, we are Maxinium, a small digital growth agency, which primary focus is to make local business owners succeed online.
We are not a traditional marketing agency with large offices, so much overhead costs and so many other procedures and traditional methods.
We are a modern digital marketing agency which primary focus on result-oriented marketing, and we provide an affordable solution for the customer since we can work in a productive environment to provide more affordable solutions to the client. Okay, now let's get into the services.
We all know the importance of the security solution. Either it can be a computer, mobile phone, any electronic device of these everywhere we see security solution because there is a lot of potentials when it comes to hacking & stealing data. All these problems are available on the internet.
But the main problem which is getting ignored a lot in website security, you wouldn't know even if we are being attacked, if you have been hacked, you wouldn't be able to see sometimes.
So most of the time, this security goes undetected, which causes so much problem; that's why at Maxinium we are offering an affordable service cybersecurity solution so you can protect your brand and business.
So without further ado, let me first sure tell you some possibilities of the same security risk you might be involved in.
First, like a computer, your website can also get viruses and malware. It can infect your website either through a vulnerability or harmful code in your website or sophisticated attack from mass automated hacking scripts or even to your hosting; they are not protected well enough so it can get affected with viruses and malware.
Second, vulnerabilities this modern day the amount of CMS, plugins, websites solution, software, and Cpanel with all these software codes there will be bugs, there will backdoor, which means someone can use these vulnerabilities to get access into your website and because of a lot of problems.
Third most common is using hacked domain email method, where they will hack your website, then they will use your domain credibility information and will do a mass email campaign, which the email blast and without even you knowing this that it has been happening in your website, there won't be any visible changes at all so you can think they will be impersonating as you and sending thousands of emails to go all around the world, which damages your domain credibility when it comes to email and big time.
It will destroy your reputation among the user trust of this problem. Things can happen using a hacked email service.
Third, they hack your website, and they will create on a lot of black cat spam pages in your website you won't be able to see it visually, but it will be created under your site where it will be showing to your customers through search engine, you would have noticed is if you have already been attacked, you would have seen there can be Chinese language and Russian language or even some other crack, serials and torrents all this spam kind of pages will be created on your business website for public to view.
Even sometimes you wouldn't see something called ransomware where they will block your access to your website, and they will make sure that you won't be able to even get into your website, get into your admin panel, and you need to pay most of the time to a Bitcoin or security which untraceable payment source to in order to give you access to your website.
Third, content hijacking where they will hijack your website and will replace their content within your site, and they will use your credibility to push these contents to the audience. So, for the audience, it's basically like you are publishing these contents, but primarily, the third party with unauthorized access will be handling this content hijack.
Another security risk is called hidden links, where it means they will insert hidden links inside your page, which will not be visible to your naked eyes. Instead, it will be showing on your technical code, and it will pause link juice mostly to a different SEO page to gain a Search Engine Optimization benefit.
They sometimes even link to adult and casino related or blackhat kind of niches to give the power from your website to them. And you wouldn't even notice this something like this is happening unless you check your website source code.
Another major problem they if you're running an e-commerce store, if you're storing sensitivity details, even standard information. They will try to steal those data they will try to get this customer information product information you can follow the technology news you wouldn't believe the big companies which have been hacked, such Yahoo, Microsoft all these big names are getting hacked, and they are getting these customer details stolen.
Then think if those guys are spending so much money effort and if they can get those into that and you don't have enough essential protection, you can feel that we will have risked we will be putting our sites in vain just without any security service.
Also will slow down your website a lot because being under the hack or virus malware is placed on the site, it takes extra time to make those procedures run.
What that means is it will take spare CPU time it will take additional memory, then what that means is too much computing time so your site load speed will increase and necessarily will reduce the customer interaction with your website even lead to causing lower ranking on search engines.
It will also abuse and trust the people on your brand, let's say, for example, they come to your website, and they see all these bad content and hijack web content then think what is going to happen for your brand because it will lead to loss of reputation trustability.
And finally the main thing, it can lead to search engine, lower-ranking and even penalty you can think Google doesn't know about the hacked page so when they find Black hat or Spam pages in your website, or even they able to detect in this website has been hacked, you would have sometimes noticed when you visit a website it will say this website is not safe to visit, or malware has been found on this website.
When these happen it will immediately devalue the power of your website, and it will cause your website to back on the ranking, and you will need to fix it these are some of the fundamental security risks you might be facing you wouldn't even have heard about some of these things but it can be actually happening for me I also manage 40 plus website but at before one or two years when I had three website of mine got affected but I didn't really know it.
The only when the hosting support which I was paying a premium notified me I noticed this thing so you can imagine if you don't protect our website, it can cause serious issues your typical hosting provider.
They wouldn't help you to delete or fix this virus. They will only notify you should have your website production service to fix and make sure to clean this problem without getting your hosted website or any other website you have hosted on the same hosting account.
So, now let me see give you what we offer. We offer malware removal and virus removal service, and we also help you to recover a broken or a hacked website, and even we monitor, protect and create a firewall for your website to make sure that it's more secure for any attacks come to your website in future.
We created Ddos Production we are; it is called the denial of service attack by will be creating some attack on our website to make sure you're website stays down. We will create a security measure for it. So these are the services we offer.
The main features of our services we will be able to remove all kinds of viruses and Malwares, we will be able to recover the files. If we are not able to recover the data, then we will try to rebuild the correct code and remove the old data.
We will protect your site from attacks. We will protect your site from DoS attacks. We will check your website with over 60 plus blacklist in your on the internet to make sure your website domain is healthy, and we will check this daily to make sure your domain has not been blacklisted on any of this list.
If it is blacklisted for some reason, then we will manually contact them and make sure to clear that. If your website is blacklisted, it will cause severe problems for your domain name when you're sending emails. It won't be trusted when the browser is going to your website; it will show you warning messages.
So we will make sure to check and monitor and fix any of these problems. Then we will scan your website daily to check your website code to see whether it is and when alternated or is any malicious code found inside the webpage, and we will remove it if we found.
Finally, don't take our word for it. We will provide each and every customer of us for website security service with the personalized dashboard. We are they will be able to see all the data we have analyzed on their website with the number of security measures we have taken a number of malware we have removed.
The number of attacks we have stopped all these reports will be available with your exclusive dashboard, and we will also be able to provide the visual PDF reports, so you will know what you're seeing without even getting into any technical aspect of it, you will be able to see it visually.
Finally, we will also include specialized contact and support chat within the dashboard. So you don't even need to leave the page. If you have anything to give comments on, to our team or their emergency information will be listed.
So you can contact us anytime. All this data will be available within the dashboard. So basically, we are currently offering a one time service where you have a problem, and you want to get it cleaned up, or you just wanted a full a virus and malware and all these other things and to make sure that everything is clear that is our one time offer.
Or if you want a consistent protection for your website where every day we will be checking all these in your website, we also will be creating a dashboard so you will be able to check everything we also offer that service and finally if you have a custom requirement where a custom job you think it's related to security or recovery or you think we can able to help you then contact us and we will try to your website to the maximum.
So I hope you are clear on these things; please let us know if you have any doubts also questions, and I'll hope you have a safe and secure website and thereby leading your businesses to get more success and more profits. Thank you so much, and have a great day.
Website Malware & Website Virus Removal
FROM PEOPLE WHO WE HAVE WORKED WITH
Alston Antony thanks a lot for your trust and contribution to our tool's development, we appreciate that a lot!❤️
Thank you for being a media partner and providing SEO & digital marketing services for our conference held in Hongkong.
Alston has played a huge role in our growth. I love the founder and has been a PitchGrounder for months now and have supported so many people.
If still not convinced, why don't you check our private Facebook group with over 1000+ for businesses and professionals worldwide and how much care we put into helping them.
Our Website Security Services
Scan sites and get rid of redirects, Trojans, backdoors, shell scripts, and other malicious code from PHP, JS, HTML, images, system files, and even binary files. Our experts will clean up thoroughly
Protect Site From Attacks
We deploy a Website Firewall to protect sites from the most common attacks. It guards against hacking, malware, harmful requests, and content grabbing, XSS attacks, SQL injections, malicious code uploads, suspicious activities, and blacklists.
We will help when a website has been blacklisted in 60+ sources and helps to un-blacklist sites. If your site is blacklisted, access to that site will be restricted by one or more services (e.g., Google), meaning that your customers will lose visitors.
In addition to a complete internal antivirus scan, Virusdie scans sites externally, too. The external scanning engine checks HTML pages and connected JS files, as well as analyzing site behavior and checking links for phishing characteristics.
We examine malicious and suspicious code in your files. We check malicious code fragments in files and analyze, edit or remove it. We navigate the folders, and restore options also available.
We do full search the contents of your website's files to find security vulnerabilities using regular expressions or a simple text search to find harmful code snippets on the site.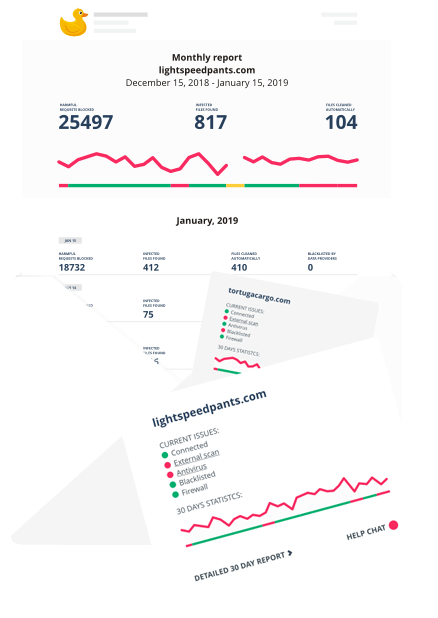 Easy Client Panel and Monthly Security Reports
We provide simplified and branded personal dashboards to our clients. All reports and WAF lock pages are available to you.

You will be invited to see your website stats and chat with is easy. It will be a simple, personalized dashboard with emergency contact information. You will also be able to view reports and status messages from your sites.

We can even send any report to your preferred email address. We also generate monthly summary reports for each site and sends them to customers. 30-day summaries are always available for customers in their dashboards.

Whether you want to scale up or grow, website security is essential to protect your websites and preserve your business reputation; We do it all.

So no matter what CMS and hosting services you use. We clean up malware infections and protect sites from online threats, XSS attacks, SQL injections, and suspicious activities. Monitor blacklists and send un-blacklist requests. And Much More.
Let's talk about your project!